Sterzingerhaus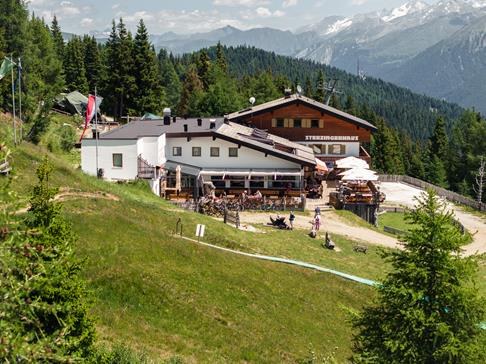 The Sterzingerhaus is a panoramic restaurant and lies just a few hundred meters above the Monte Cavallo mountain station with a view over the valley.
Route:
The cable car Rosskopf Monte Cavallo (valley station near the north park in Vipiteno) takes you to the leisure mountain. From the mountain station follow the marked trail no. 19 until you reach the Sterzinger Haus, which is situated above the mountain station.
Alternative:
by foot to the Rosskopf Monte Cavallo: starting from the valley station of the cable car Rosskopf Monte Cavallo, follow path no. 19 or no. 23. Continue through a shady forest over serpentines and further on to the mountain station. From there follow path no. 24 uphill to the mountain hut Sterzinger Haus.
Winter:
The Sterzingerhaus restaurant is in the middle of the Monte Cavallo slopes that are perfectly suited for families and beginners.
Special features:
Walters traditional farmer roast, homemade "Graukäse" cheese and homemade variation of different "Strudel".
Duration:
20 minutes uphill from the upstream station
- Alternative:
2.5 hours from the valley station
Difficulty:
Easy
Height difference:
70m
- Alternative:
990 m
Summer
27.05. - 05.11.2023
Winter
08.12.2022 - 02.04.2023
Contact
Location
39049 Rosskopf / Monte Cavallo
Back to overview